Volunteering in Scotland with Border Collie Rescue
General Help
Border Collie Rescue is run and staffed by unpaid volunteers.
We always need volunteers and the more people who volunteer to help or support the work of the charity, the more Border Collies we can help.
We have a formal membership structure and volunteers join us as 'active members' by filling in a membership agreement form.
This form does not oblige anyone to put in a certain number of hours or do a particular job, but it does bring volunteers under our vehicle, public liability and employers liability insurance, to cover them when they are helping in the charities work.
We do have rules.
Our byelaws have evolved over the life of the charity and we are subject to various laws, including charity law.
They have a purpose and reason - and it is important we all stick to them.
If you cannot follow the rules, you risk ending up as a liability rather than an asset and it's team payers we need on board, not loose cannons!
It does not matter where you live - there is a Border Collie near you that needs help.
We need people to help with - Fund-raising, Promotion, Fostering dogs, Training dogs, Home checking, Message taking, Transport and many other tasks.
Some involve handling dogs and others are purely administrative, but there is a lot to be done.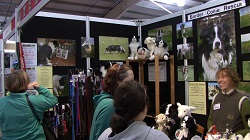 We make films about our work, dogs and welfare issues. We want to make more films, informative and educational films, about Border Collies.
We need people to help in this area, as well as more generally with educational matters, raising awareness of the breed and welfare issues.
Every little helps - can you help a little ?
If you want to get involved and help Border Collie Rescue please contact us.
Fostering and Care within BCR
Border Collie Rescue no longer uses kennels as primary housing for the dogs in our care.
Foster homes and foster carers have now replaced kennels as the preferable way of accommodating dogs, although we may on occasions use kennels in emergencies.
The reasoning behind this is not financial - although we save on kennel running costs or boarding fees, our transport and communication costs are higher with this system - but it is better for the dogs.
Border Collies do not generally fare well in kennels - the restrictions on exercise, mental stimulation and personal attention are detrimental to the well being of the dog - the excitement and noise of other dogs kept in close proximity induces hyperactivity in many Border Collies.
As many of the dogs referred to us are suffering from, or on the verge of, behavioural problems, a kennel system often makes matters worse. It is also very difficult to really get to know a dog if it is in kennels and the attention of the person handling the dog is spread between many others.
Proper assessment under these conditions is almost impossible.
Correct assessment is important.
We need a proper understanding of the character and needs of a dog in our care before we can clear it for re-homing.
Without this understanding, we will not have sufficient information to enable us to make responsible decisions when selecting a new home.
What does it take to become a foster carer?
Courage, love, altruism and practical responsibility are the main requisites of a foster carer.
It is not easy to take a dog in, spend time looking after it and then have to part with the dog.
It is too easy to fall in love with the dog and then want to keep it for ourselves or to fall into the trap of thinking that the dog is totally dependent on us and needs to stay with us if it is to have a happy life in the future.
Re-homing is not as big a problem for the dog as the handler.
Border Collies are a breed that instinctively bonds to its handler. This gives a false impression to the handler who is fooled into believing that the dog will not bond elsewhere.
Sorry to say, this is not true. Border Collies will come into care from homes where they have been for all their life - knowing no other. Within hours they have switched their allegiance to the new foster home.
The breed is capable of doing this.
Dogs have different priorities to humans and do not judge life by the same values. Food, shelter and fun are priority for them.
The purpose of fostering is to keep the dog in suitable conditions until a new home is found that is permanently suitable for the dog. The re-homing of a dog from a foster home will enable the foster carer to take on another dog and so on and so on.
This will do more good than by providing a permanent home for one or two dogs.
A single foster carer can help lots of dogs each year but will need the courage to part with them, love to spare for them while in care, an altruistic attitude as they are doing the job for someone else, not themselves and practical responsibility to observe the dog objectively - not through rose tinted glasses.
Fostering is a specialised task and requires training.
We use universal commands, feed the same foods and handle dogs in the same way thoughout the country.
We do this consistently because if a dog moves around it get the same diet and treatment everywhere.
It does not get confused, suffer from an upset tummy or unduly stressed if a home comes up for it hundreds of miles away and it needs to be moved closer.
If you feel your up for the job of fostering, get in touch.
The link below will take you to our members section on our Border Collie Rescue On Line website where you can read more about our ethos, operational procedures and byelaws
Border Collie Rescue - Members information and guidlines