Support us by running or walking in an event in 2014 and getting sponsored. Full and half Marathons, 10k 's and shorter runs, organised walks - secure places in events in England and Scotland. Visit our "Running with Dogs" website for details
How to support our work in Scotland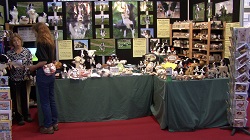 We rely on - Donations - Subscriptions - Sponsorship and Fund raising events such as dog shows, coffee mornings, functions, sponsored walks / runs etc. selling goods on stalls at events and gifts from supporters.
We also sell a range of donated goods, books, etc., raising money and spreading our name as well as raising funds.
As most of the dogs we take in need and receive inoculations, microchipping, worming, neutering/spaying, veterinary assessments and attention, our costs are high.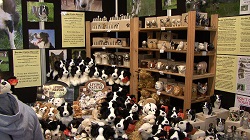 You can help by giving a regular amount by standing order.
Becoming an active member and helping with our work.
Sending a 'one off' donation.
Giving us unwanted goods/bric-a-brac that we can sell to raise funds -
Getting sponsored - and in many other ways.
Gift Aid can be applied to any donations from Scotland so please remember to download and fill out a gift aid declaration and send it into out Treasurer.
Standing Order forms and Gift Aid forms can be found in the fundraising section of our Border Collie Rescue on Line website - the link to the section is the 'Want to make a donation ?' link in the box below.
There is also a link on that page that enables secure on-line donations to be made using a debit or credit card though BT - My Donate.
This is a free service provide to charities by BT and the only deduction from a donation is the card transaction fee.
We have set up a restricted funds account for our work in Scotland.
People who wish to donate or raise funds for us in Scotland and have the money donated or raised specifically dedicated to help dogs we take in or re-home in Scotland can state this with any donation they make.
This applies to all donations, one off's, regular standing orders or funds raised by people being sponsored on our behalf.
To implement this, if you are setting up a standing order include the word 'Scotland' in the reference section.
The same applies if you are donating on-line through BT My Donate.
If you are sending a 'one off' donation to our Treasurer, include a note in the letter accompanying the donation.
If you are holding a fundraising event on our behalf, state your wishes when registering the event with us and it will be stated on the letter of authorisation we issue.
(More information about how to register and set up a fund raising event for us can be found by using the lower link in the box below)