How to adopt a dog from Border Collie Rescue
If you are interested in adopting a Border Collie, either as a working dog, a companion or for any purpose, Border Collie Rescue may be able to help.
Border Collie Rescue works on the principle that the only way to ensure that the right Border Collie is offered to a particular home is to know and understand the character, temperament and needs of each individual dog that comes into our care.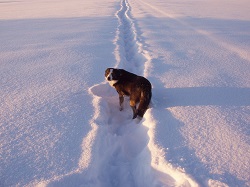 Every Border Collie we take in is assessed before we offer it for re-homing. Dogs do not come in and go out again quickly. We need to know about their character and needs before we can understand what sort of home is best for them.
We assess each dog we take in for physical and mental health, stamina, intelligence, level of training and control, temperament and character. In addition to these basic assessments we also assess every dogs drive, needs and inclinations. The information gleaned enables us to target our re-homing.
As we are dealing with a working breed, designed to be a sheepdog, our first assessment for any dog is around livestock.
This provides us with information about the dogs level of instinct, its working drive and its ability for the job. Because we know the Border Collies we are re-homing, it means we do not home potential sheepdogs into domestic homes where they are likely to cause problems and where they may become frustrated because they are unable to herd sheep.
Border Collies that show us they have a strong work ethic, but are not interested or capable of stock work are assessed for other work like SARDA, Sniffer dogs or other workings skills that are of assistance to humans.
Again, it means we do not home potential working dogs into a home where they will be a problem.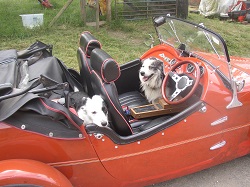 Dogs that show us they have no inclination and ability for any working area, but still exhibit a high degree of energy and need an active home are further assessed for interactive disciplines like Working Trials, Agility, Obedience and Flyball, thus ensuring such dogs go to a home where they are an asset rather than a liability.
If a Border Collie shows no inclinations or ability for any of the above and have the right temperament and character can be offered as companions to appropriate homes.
Although most people come to us looking for a youngish dog, we take in dogs of all ages and have developed a program for re-homing older dogs over 10 years of age.
Because we care about the Border Collies entrusted to us and we care about the ethics and moral responsibilities of rescue, we only want our dogs to be re-homed once, so we consider it important for both the dog and the new home to get it right first time. By taking the time and trouble to properly assess each individual Border Collie we are able to pass on accurate and honest information about the dog to applicants.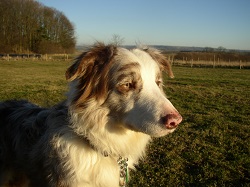 By taking the time and trouble to gather information on the homes being offered we are able to offer suitable matches to applicants, taking the 'pot luck' out of re-homing and providing a responsible service to both the dogs and the people who apply to adopt one.
If you are interested in adopting a Border Collie from us, please phone 0845 604 4941 during office hours - 2 pm to 5 pm Tuesdays to Thursdays
Please do not write to us or email us about adoption - we want to speak to you before we start the process.
The criteria and system we apply to adoption is the same wherever you live. If you want to know more details, you will find full information on our UK site by clicking the link below