About Border Collie Rescue
Registered throughout the UK as Border Collie Rescue
Registered Charity No 1128983 (UK). Registered Charity No SC040796 (Scotland)
Non-Profit distributing charitable company no 3037504. Registered in England.

Border Collie Rescue is entirely run and staffed by volunteers and is a registered voluntary organisation.
It has always been a basic premise of this charity that those involved in helping the dogs should be doing so because they are driven by a love and respect of the breed rather than the expectations of payment for doing a job.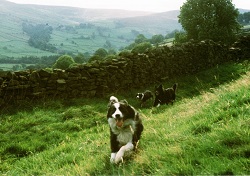 Border Collie Rescue was founded in 1976 and has worked continuously since then to rescue and re-home Border Collies and Sheepdogs, constantly striving to improve the services provided to dogs taken in.
Unlike many rescues, we re-home from the dogs viewpoint, first getting to know the dogs and then seeking homes that can offer the dogs what they need most from life.
Part of our work involves assessing all the dogs we take in around sheep and other livestock to ascertain their working ability in order to be able to consider these factors before re-homing because we believe any Border Collie, but particularly a puppy, should always have a chance to work and fulfill its natural instincts.
If being a sheepdog is what it needs to do to have a happy and fulfilled life, we should find that out and facilitate it.
Knowledge of a Border Collies herding, chase and working inclinations also help us prevent a puppy or dog with these qualities ending up in homes where their instincts are frustrated, causing problems for people kind enough to offer a home to a rescue dog and causing problems for the dog in adapting to an unsuitable lifestyle.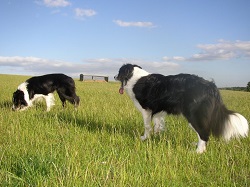 Working in Scotland
Since founding in 1976 there have always been a few dogs from Scotland coming into Border Collie Rescue care and some dogs finding new homes in Scotland.
It was in 1995, when the organisation first incorporated as a non-profit distributing charitable company and its HQ moved from the Midlands to Yorkshire, that the charity started to expand its work north of the Border and the proportion of dogs coming from Scotland has slowly increased to its current level of around 50%.
Border Collie Rescue has always tried to divide its resources evenly throughout the UK without favoring any area in particular and to some extent Scottish homes offer certain Border Collies a better environment than other parts of the UK so a proportion of the dogs we take in have a better chance of finding a new life with a Scottish resident than elsewhere.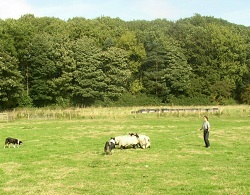 Registration with OSCR
When Border Collie Rescue registered with the Charities Commission of England and Wales it naturally followed that we would also seek registration with The Office of Scottish Charity Regulators in order to ensure that our work in Scotland remained on an even footing with that of the rest of the UK.
In order to provide better facilities for the dogs we take in from Scotland, we are currently seeking premises to open our first Scottish centre.
We provide a uniform service to canine and human clients under the same rules and principles throughout the UK
For more information in the following areas visit our other website - Border Collie Rescue - On Line

Objects of Border Collie Rescue - http://www.bordercollierescue.org/bcr/Content/objects.html
Full Governing Memorandum of Border Collie Rescue - http://www.bordercollierescue.org/bcr/Content/Mem.html
How we work and what we do - http://www.bordercollierescue.org/bcr/Content/work.html
General Information about Border Collie Rescue - http://www.bordercollierescue.org/bcr/Content/general.html
Border Collie Rescue - Dedicated to the future of the breed.